RESIDENTIAL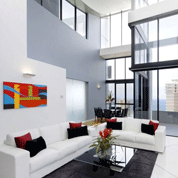 Homes, Condominiums, Apartment Complexes, Duplexes, Townhomes, Outdoor Decks, Garages
Our mission is to create a more beautiful, healthy home for you and your family. We will provide you with true value, professionalism, and quality of the highest order. We guarantee it!

We use only the finest paints and paint finishes for your painting project. We will work with you to help produce the look that you ultimately desire.

Our craftsmen are fully insured house painters with workers compensation and liability insurance, so you don't have to worry about injury related law suits or damage to your property.